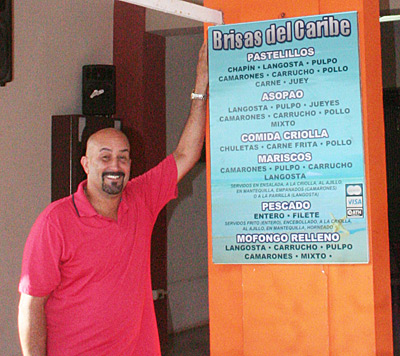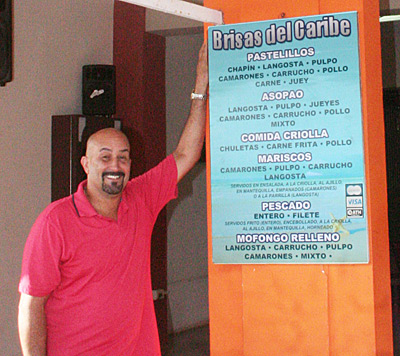 A LOCAL TASTE RESTAURANT

I
f you travel to the Caribbean and do not enjoy the local food, then you are on a great default. Visit Brisas del Caribe to start enjoying what we call the '[simple_tooltip content='Going from place to place eating or drinking local food']
chinchorreo
[/simple_tooltip]'. A kind of tourism that allows you to enjoy island life. Located in front of the "[simple_tooltip content='Walking strip in front of the sea']
Malecón
[/simple_tooltip]" at Naguabo city –a short car drive of 45 minutes from San Juan– the restaurant has easy parking for a few bucks just steps from the restaurant.
The place is family operated so you will enjoy a fresh food cooked menu with no micro or pre-cooked food. Menu is cooked at the moment, so you have to wait to be served. During that tiime you can enjoy the fresh sea breeze from near sea shore.
PuertoRiKo.Com party enjoyed many plates there like the mofongo, grated shrimp, 'mero en salsa' and other sea dishes. All were great and the price was in the standard scale. They also have pastelillos de chapín and jueyes, which are local delicacies that islanders enjoy a lot, especially with a local beer.
So get the real taste from Puerto Rico and if near the town of Naguabo, stop there to taste the puertorican style cuisine that we enjoy during our 'chinchorreo'. Driving thru the East part of the Island is a great option, especially if you go to the El Yunque Forest in the morning and stop at Naguabo for great food for lunch or dinner.
---
PHONE: 787.617.3226
LOCATED: Carr. PR 3, Km. 65 Playa Húcares (in front -across- the Malecón) GPS Location
KIND: Sea and local puertorican dishes.
---